Perhaps you are considering Montana as a location to live because of its closeness to wildlife preserves and snowcapped mountains, or perhaps you are thinking about Montana on a more practical level, such as career options and housing prices. Montana is a cheerful and pleasurable place to live, regardless of your viewpoint.
We compiled our ranking of the top 15 greatest places to live in Montana their crime rates, the quality of public schools, and the total cost of living in each community. We have also taken into consideration the thoughts of the individuals who reside in each neighborhood in order to provide you with the most realistic and balanced assessment of each neighborhood on the list. We have also prioritized the most affordable places to live in Montana.
What is the best part of Montana to live in?
Montana is characterized by a diverse and rich landscape. It is still a wilderness in many parts of this state, from the Rocky Mountains to Glacier National Park and then the Great Plains and all in between. There are huge parklands to roam and explore across the region, particularly in the western part of the province.
The best time of the year to visit Montana is during the summer months between June and August when the weather is bright and pleasant, and during the winter months between December and March, when the ski season is in full swing.
Montana, with a population of little more than one million inhabitants, is a sparsely inhabited state due to the state's vast area. Within the city limits of places like Helena, the state capital, you may get a taste of cosmopolitan living while still having easy access to the great outdoors. From small rural areas to large major cities in Montana, the state is chock full of stunning places to stay.
Is it expensive to live in Montana?
Montana has a cheaper cost of living than the US average of 94 which makes it an excellent place to live in among all the US states.  Although the housing prices are on the higher side, it is still pretty affordable and is a great option to settle down.
Find out how much your move will cost.
Compare quotes from upto 5 moving companies and save upto 55% on your next move.
Best Places to Live in Montana
1. Whitefish
Whitefish, with its 6,692 residents, may not have a very diversified population by national standards, but the town's warm and inviting character overrides that fact. And mostly it is the best place to live in Montana for families.
Whitefish, a famous vacation spot for many American tourists, has a large number of employment in the hotel industry, especially during the peak season. Whitefish is seldom overwhelmed by tourists, but the stream of visitors keeps the town fresh and ensures that there is always something going on during the evening.
Located at the crossroads of the Rocky Mountains, Colorado is a great place to explore the great outdoors. Whitefish is a terrific spot to raise a family because of the town's excellent educational options.
Is Whitefish Montana worth visiting?
Whitefish, Montana is worth visiting due to its top dining options, wonderful natural experiences, and an ample variety of art and culture scenes. It offers access to the emerald hills of glacier National park, hanging valleys, and features of the river, mountain, and lake adventures.
Which is better Whitefish or Kalispell?
We will ask you to prefer whitefish over Kalispell, if you want to stay in a quaint town, enjoy hiking in the glacier and enjoy delicious cuisine inexpensive restaurants, and lodgings. Otherwise, to enjoy great affordable dining and entertainment options, you can choose Kalispell.
2. Helena
The advantages of residing in the state's capital are undeniable. There are 29,600 people living in Helena. There's a suburban vibe to all of this since there are so many people.
Despite the fact that Helena's house prices are higher than the national average, they are nevertheless relatively affordable. A two-bedroom home in Helena's City Park neighborhood may be yours for little over $150,000.
It's both adorable and aggravating to hear that Helena, Montana, is a touch behind the times. Overall, residents are pleased with the city's infrastructure and shopping amenities, although there is room for improvement.
There is a lot to learn about the history of the City Hall building, as well as the stunning architecture. Prickly Pear Creek is a popular spot for folks to take a stroll.
Is Helena Montana a good place to live?
Helena is known to be one of the best places to live in Montana as it offers affordable homes to buy and provides a dense residential feel to the residents. Students and young professionals love to live and lead a conservative life in Helena. The town is filled with a lot of parks, bars, restaurants, coffee shops, and shopping centers.
What's the cost of living in Helena Montana?
 The overall cost of living in Helena is 94.7 which is slightly higher than the cost of living in Montana which is 94 and less than the US average which is 100.
| | | | |
| --- | --- | --- | --- |
| Cost of living | Helena | Montana | United States |
| Overall | 94.7 | 94 | 100 |
| Grocery | 102 | 99.6 | 100 |
| Health | 100.3 | 100.2 | 100 |
| Housing | 108.7 | 100.4 | 100 |
| Utilities | 87.2 | 90.7 | 100 |
| Transportation | 60.8 | 75.2 | 100 |
| Others | 103 | 98 | 100 |
3. Dillion
Dillion, Montana, is one of the most affordable places to live in the state. The value of a home is $120,000, which is much lower than the national average. In the market for a home that doesn't require a lot of work? You can acquire a 4-bedroom family home for around $199,000, which isn't a terrible deal for a property that needs some TLC. That is why it is the best place to live in Montana for singles.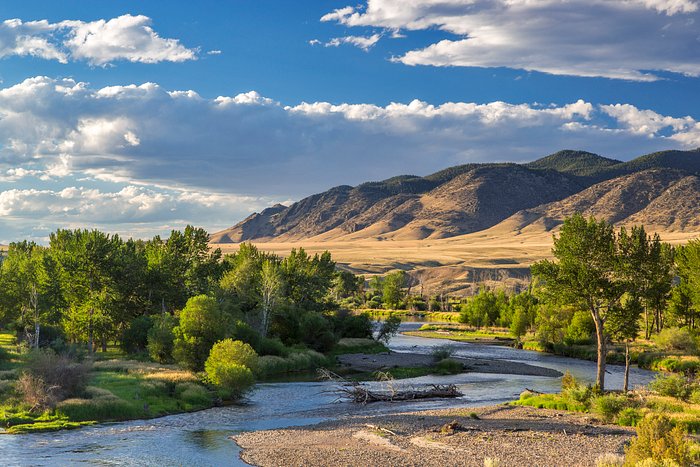 The town has a population of 4,193 people and is known for having a friendly and close-knit vibe. The fact that Dillion has low crime rates and a big number of families who chose to raise their children there are both indications of this.
Is Dillon Montana a good place to live?
Dillon, Montana is a good place to live for those who want to live in a quiet small town. It is a great beautiful town full of friendly and helpful people. Despite being a small town it offers ample activities to explore and enjoy. 
Where can I fish in Dillon Montana?
Grasshopper Creek, Clark Canyon Reservoir, and Bloody Dick creek are the three best spots for fishing in Dillon, Montana. Dillon's home water has a lot of other local fisheries options that have productive fish counts in the state for fishing and related businesses.
4. Missoula
Artistic, cultural, and natural, Missoula is a draw for visitors from all over the world. The Missoula Art Museum and the historic 1877 Fort Missoula may be found in this Montana city in the western part of the state.
You're never more than a few minutes away from Montana's stunning surroundings, including Mt Jumbo, in the town's residential area.
Parents should carefully consider Missoula as a place to raise a kid because of the city's excellent education system.
Crime rates are the only thing keeping Missoula from making the top five greatest places to live in Montana. According to those who live in the city, it's a wonderful place to call home.
Is Missoula cheap to live in?
Less housing costs and monthly rent make Missoula a cheap place to live in Montana. The overall cost of living might be more than the national average of 104.4 but the essential requirements i.e. housing, rents, healthcare, etc are less than Montana.
Is Missoula Montana a good place to live?
 The existence of a beautiful landscape, a lot of outdoor recreations, high quality of life, and excellent education systems make Missoula Montana a good place to live.
Ready to start planning your move?
Compare quotes from 5 moving companies and save 55% on next move.
5. East Helena
If you're thinking of moving to Helena, you might want to give East Helena a second look. East Helena may provide the perfect counterpoint to Helena's bustling downtown if you prefer a more suburban setting. 2,306 people live here, which is less than half of the population of the entire city.
East Helena retains its small-town charm despite its proximity to the metropolis. This region is one of the safest in the state, which makes it appealing to a wide range of people, including retirees, young families, and millennials.
East Helena is a great place to live because of its excellent schools, employment possibilities, and commute choices.
When and why was East Helena established?
East Helena was established by Samuel Hauser in 1888. He was a Pioneer capitalist who built a large lead smelter on the banks of prickly pear Creek a few kilometers East of Helena. It slowly became a vast industrial site and one of the largest and last lead processing industries in the world.
Is East Helena Montana a good place to live?
East Helena has endless outdoor recreation opportunities, a lot of dining options, and great parks, which makes it a wonderful place to stay and raise a family without any complaints.
6. Billings
Similar to Livingston, the Yellowstone River flows through Billings. It is the largest city in Montana. Located in the southern part of the state, this is a great place to go hiking. You may find anything from sheer cliff faces to harsh and rocky scrublands just outside the city boundaries of Billings.
Billings is a city in every sense of the word, with a populace of 108,134. When it comes to social life and entertainment options, Billings should be on the list of places to consider.
Billings has a diversified population that is especially popular with seniors. Families with small children are drawn to the area because of the excellent schools, while millennials are drawn by the work prospects and simple commute alternatives.
Is Billings Montana a nice place to live?
Billings, Montana is a clean, safe, and developing town with ever-widening opportunities. The welcoming nature is very comfortable and overwhelming. There are a lot of outdoor opportunities to explore and enjoy large rivers and lakes within a safe driven distance.
How much snow does Billings Montana get?
Residents of Billings, Montana witness snow from November to February up to 45 inches or more, and the temperature drops down to -40 degrees Fahrenheit.
7. Belgrade
It is only eight miles away from Bozeman, which is ranked as the finest location to live in Montana by Money magazine. Being a resident in Belgrade provides you access to all of the excellent things that Bozeman has to offer, but it is more reasonable, particularly in terms of housing rates.
Rental properties typically rent for $793 a month, with a median house value of $185,000 in the area. Consider this: for $189,900, you can own a nice 3-bedroom family house that is only 8 miles away from the superb schools that Bozeman has to offer. If you believe that a compromise is necessary, then Belgrade is a city to take into consideration.
Where does Belgrade Mt get its water?
Belgrade Montana receives water from deep water wells that are pumped directly into the storage reservoir and water distribution system. This water does not need any treatment as it comes out from the underground pure and clean.
What is there to do in Belgrade Montana?
Belgrade Montana is a stunning place full of attractions and outdoor activities. The city is far away from Bozeman avoiding noise and crowds but is close enough for work, study, and play over there. You can enjoy car shows, open pit beef barbecue, fishing, local dinings, Gallatin speedway, parades, arts and crafts fairs, and football games in the Belgrade High school.
8. Livingston
Livingston, a city in Park County, Montana, lies tucked away in the southwest corner of the state. Yellowstone National Park is only a one-hour drive away from the town of Yellowstone, located on the Yellowstone River, and also has the nearest airport to Yellowstone national park.
Livingston has earned its position among Montana's top three greatest cities to call home. Good schools and affordable housing make this city an excellent choice for families looking for a new place to call home. Livingston has a lot going for it, particularly in the way of entertainment options and a reasonable cost of living.
Houses in the city cost an average of $170,400, making it more popular among millennials. There are several reasons why young people are choosing Livingston as their long-term home. The typical rent in the city is $639, making it a perfect spot to save for a down payment on a home in Montana.
How cold does it get in Livingston Montana?
In Livingston Montana, the winters are partly cloudy, snowy, freezing, and windy. The temperature varies from 15 degrees Fahrenheit to 85 degrees Fahrenheit and sometimes may drop down below -5 degrees Fahrenheit or rise above 95 degrees Fahrenheit.
Why is Livingston MT so windy?
Livingston, Montana is located at lower pressure zones to the north and near Yellowstone National park resulting in a pressure difference to cause the wind. Greater pressure difference leads to stronger and stronger winds.
9. Four Corners
Four Corners is a little yet wonderfully crafted second location. Highway 191 runs through this suburban neighborhood, offering convenient access to nearby cities and points of interest.
Four Corners, Montana, is known as the finest area to raise a family in the state since it has the top public schools in the whole state.
This little town of just over 3,000 inhabitants relies heavily on its local enterprises. It's not just a nice place to live, but also a safe place to live, thanks to the communal mentality that permeates the area. Proudly boasting some of Montana's lowest crime statistics for its inhabitants
In spite of the higher median house value than the national average, the median rent of $836 is much lower than the national average.
The stunning city of Bozeman is the first to greet you. Bozeman, Montana, is a city of 40,319 inhabitants, yet it's easy to overlook because of the gorgeous alpine background offered by the Rocky Mountains.
10. Bozeman
There are some of the greatest schools in the state in Bozeman, as well as some of the best outdoor activities, making it one of the best places to raise a family in the whole state.
The cost of living in this area is higher than you may expect, but this is to be expected given the availability of local facilities, medical care, and the strength of the local economy. A drawback that can be tolerated.
So if you're seeking commuting possibilities, then Bozeman is the place for you. With Route 90 and Highway 191 running right through the middle of Montana, it has numerous advantages.
Is Bozeman Montana wealthy?
Bozeman, Montana is the second most wealthy city having the highest combined net worth of an estimated $3 billion. The reason for Bozeman being a billionaire state is because of its better quality of living, great education, best healthcare facilities, higher housing prices, and lower crime.
Which Yellowstone is closest to Bozeman?
Yellowstone National park is situated nearer to Bozeman, as Bozeman is located in the southwest, the park is situated in the North. You can easily access the park via the West entrance or North entrance which is nearly 89 miles and 80 miles south of Bozeman respectively.
11. Orchard Homes
A suburb of Missoula, Orchard Homes has a name that's both quaint and lovely. You get the best of both worlds when you have 5,576 individuals living in the immediate vicinity. In addition to the high-quality education and employment options of Missoula, the town also has a more laid-back, small-town vibe.
Housing is a problem in Orchard Homes, as 60% of the population lives in privately owned homes, and just a few inexpensive residences are periodically put on the market. Affordably-priced homes are either tiny and cramped or need extensive renovations and upgrades.
You may have to wait a while to locate a house that suits your needs, but with some of the top public schools in the state, Orchard Homes is a popular choice for young families.
Not sure which mover to pick?
Compare quotes from 5 moving companies and save 55% on next move.
12. Lewistown
Lewistown, Montana, should be on the list of considerations for individuals who must travel long distances to work. There are daily flights from Lewistown Airport to six major U.S. cities: Denver, Minneapolis, Las Vegas, Phoenix, Salt Lake City, and Seattle.
Lewistown, despite its closeness to the airport, is a peaceful and tranquil town. As a result, the cost of living is quite affordable, and the quality of life is excellent. With adequate parking and a small yard, a 2-bedroom 1-bathroom property costs about $79,900.
Rent in Lewiston is a reasonable $699 a month on average, with a large supply of rental units.
Is Lewistown MT a good place to live?
Livingston MT is a great place to live. This little town has a lot of things to explore which are just a few minutes away from the town like hiking, fishing, enjoying nature, and amazing dining while the necessary amenities such as utilities, groceries, restaurants, malls are present right in the town.
What mountains are in Lewistown Montana?
The five Famous beautiful mountain ranges present in Louis Montana are the BTS, the Highwoods, The Judiths, The Moccasin, and The Snowies that extend 100 miles outstretched below.
13. Kalispell
Kalispell, Montana's gateway to Glacier National Park, offers a unique blend of urban conveniences and nature-based adventures. This is one of the most diverse places to live in Montana, with alpine trails to explore and grizzly bears to come across.
In Kalispell, the cost of living is very low, but the quality of housing is a problem. As a buyer in Kalispell, you'll have to act quickly because there are only a few properties on the market at any given time.
A growing number of young people are choosing Kalispell as their new home base in Montana, making it one of the state's greatest locations to live in the future.
What are winters like in Kalispell Montana?
The winters in Kalispell, Montana are snowy, freezing, and mostly cloudy. The temperature varies from 15-degree Fahrenheit to 85 degrees Fahrenheit and rarely drops below -2 degrees Fahrenheit or rises above 95 degrees Fahrenheit.
What is better Whitefish or Kalispell?
Both Whitefish and Kalispell are great towns to live in Montana. But if you have to choose one from them, prefer Whitefish as it is a nice, quiet and attractive town. If you want more entertainment recreations or dining options, choosing Kalispell will be better.
14. Glasgow
You can get to Billings in less than an hour from Glasgow Montana Airport, which operates seven days a week.
When it comes to attracting new inhabitants, cheap property expenses and monthly rent are critical factors to consider. Why millennials come to Glasgow, where the average monthly rent is under $500, is easy to comprehend. When you include in the median property worth of $134,400, you've got yourself a winner on your hands.
The distance between Glasgow and Montana's spectacular natural beauty is a drawback of living in Glasgow, which is ranked as the second safest place to live in the state of Montana. Glasgow is also ranked as the second safest place to live in Montana.
How isolated is Glasgow Montana?
Glasgow is one of the isolated towns present in northeastern Montana. Situated far away from all its neighboring towns at about 4.5 hours, this city has a population of nearly 4000 people staying in the rolling prairie.
Is Glasgow MT on a reservation?
Glasgow, Montana is located between the Fort Peck Indian reservation to its west and the Fort Belknap Indian reservation to the east.
15. Great Falls
Great Falls is the final stop on our journey. With a population of 59,593 and an Air Force Base just next door, this city has a large military population, resulting in a wonderfully diversified population.
Access to outdoor activities like hiking, bicycling, and camping is extremely important to the people who live here, according to the residents. Furthermore, the city's abundance of locally owned eateries provides several options for meeting new people and exploring new places.
Having the Paris Gibson Square Museum of Art just a few blocks away gives you access to an abundance of cultural attractions.
Although crime is a major factor in the area's 15th-place score, locals report that they rarely feel endangered or intimidated in their own houses.
What is it like to live in Great Falls MT?
Safe and friendly neighborhoods, plenty of outdoor recreational opportunities, excellent schools, great healthcare facilities, and stunning natural landscapes make great falls a great place to live in Montana. It is the third-largest city in Montana with over 60,000 residents that receive great opportunities that the city offers.
How much snow does Great Falls Montana get?
Great Falls Montana receives 58 inches of snowfall every year. Till now the city had recorded 119.3 inches of snow in 2019 which is nearly double the yearly average.
Best places to live in Montana FAQs
Where is the most beautiful place to live in Montana?
The top 10 stunning places in the state that qualify in the category of the most beautiful place to live and surrounded by breathtaking scenery are as follows:
Bozeman
Troy
whitefish
Darby
Fort Benton
Big Sky
Anaconda
Lewistown
Stevensville
Choteau
What is the safest place to live in Montana?
The 10 safest places to live in Montana that are ranked in terms of population, road accidents, violent crimes, and common crimes are as follows:
Colstrip
Whitefish
Glendive
Columbia Falls
Deer Lodge
Dillon
Bozeman
Miles City
Laurel
Libby
Conclusion
Are you ready to make the shift to the West? Consider making Montana your new home if you want to live in a beautiful setting. Even if I have the opportunity, I want to move to Montana too! With everything from the wide-open areas to the plethora of recreational opportunities available, outdoor enthusiasts will find enough to like about living in "Big Sky Country." Here, the mentioned 15 places are the best places to live in Montana with the land.
Montana is also home to some of the world's most magnificent mountain scenery and national parks, which may be found across the state. All of that pristine mountain air also happens to be beneficial to the state's citizens, who often rank as some of the healthiest (and happiest!) in the country.
Know the 5 Best Movers Nearest You